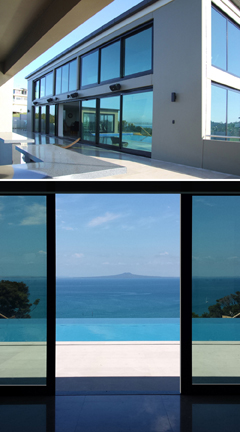 Swish AutoStac System
Enhance lifestyles and increase asset value for residential, hospitality or commercial projects.
At the touch of a button, Swish AutoStac can open entire walls to vistas and outdoor entertainment areas or

subdivide large rooms for temporary privacy while retaining open-plan living concepts.
AutoStac panels open or close partially or fully on command and can stack unobtrusively into wall cavities when fully open.
November 2012 saw the first system installed in New Zealand (and Australia), residential sliding doors have now been successfully fully Swish automated!
The culmination of this project involved 12 months planning, from design, development and finally, an on-site panel slide performance check and walk-through of the eight by 200kg installed bi-parting slide panels...
The installation of the AutoStac system followed, the electronics and mechanics are connected... Then on the 14/11/2012 the start button is pressed and the clients dream location and lifestyle opportunity comes to life...
But view the video below for yourself, "during installation"
Swish AutoStac can be modified to meet pool compliance with a default setting which allows only the first panel to open and causes it to immediately self-close within 5 to 8 seconds...

The default operation together with the placement of the code activated keypad 1500mm above the internal floor level is designed to prevent both door operation and access into the pool area by unsupervised children

As required by the Building Act 2004 NZBC F9 / F9.2 / F9.3.1 / F9.3.4 and NZS 8500-2006 approved solutions...