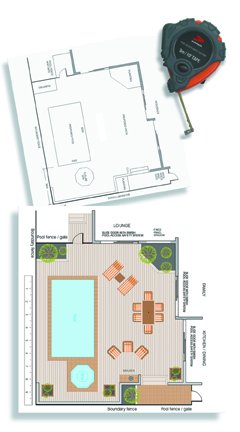 PoolZone Solutions:
Defining the 'immediate pool area' for pool compliance:

Are some pool owners being denied preferred pool-safety solutions in the compliance process?

The short answer is a resounding YES!

The aim of pool-safety compliance law is the prevention of small children gaining unsupervised access to the home pool when the pool is not in use..

.
A Declaratory Judgement in 2004 determined that the home pool owner had the responsibility to specify what activities were proposed in and around the pool.

These activities could include (although not necessarily every time the pool was used) the following approved activities:

A BBQ and grill food and entertainment area

Formal seating for family or entertainment

Informal seating areas

Sun loungers and sun bathing areas

Ornamental garden and pool side features such as a spa, waterfall or similar

The judgment determined, keeping adults involved within the pool area, actively encouraged them to supervise their children thereby, reducing the likely hood of child drownings
It is the responsibility of the home pool owner to determine in the consent application, how they will use the pool and supervise children and/or, adult pool users

To assist, Swish have uploaded a PDF library of PoolZone elements (Poolzone2 below)

Register through the contact page, advising either Microsoft or Apple, is required...
| | | | |
| --- | --- | --- | --- |
| Poolzone 1 | Proposed | Approved 1 | Approved 2 |

Poolzone 2