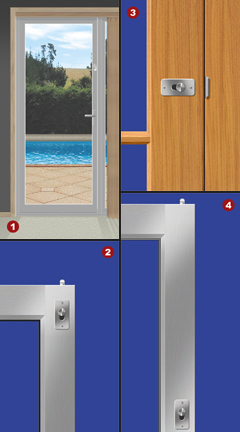 New legislation in the Building Act 2004 - NZBC F9 supercedes the Fencing of Swimming Pools Act 1987 but incorporates NZS 8500-2006 for approved solutions
Swish Hinged Door Closers and SelfLatches can be installed into most existing and new commercial or residential aluminium door profiles (1, 2 and 3) and can be custom fitted into timber door leaves (3) as shown
Swish uses superior quality hydraulic systems to ensure closing and latching from all open angles -- including from an opening of 150mm.
Hydraulic closers specified, supplied and installed with the Swish SelfLatch are complete with backcheck mechanisms to resist (eg:) wind gusts or door throw-back, slamming the door and causing frame or building damage.
All Swish SelfLatches are operable from both sides of the door, at or above 1500mm above the internal floor level to comply with the legislation
Stainless steel components are used in the Swish SelfLatch for durability and aesthetics, with moving parts totally concealed for safety and appearance.
Swish Hinged Door Closers and SelfLatches meet NZBC F9 - NZS 8500-2006 and by default the non-mandatory AS1 schedule to prevent unsupervised child home pool access
| | |
| --- | --- |
| Data 1 | Data 2 |